The ride out of Trincomalee was an easy one as I found a 5km short cut across a quiet dirt road surrounded by forrest.
I got away late at around 7am but this was still way too early for anywhere serving breakfast. Restaurants don't seem to open until 8 or 9 o'clock, in fact theres barely anyone around until then which makes the roads nice and quiet in the mornings. I found a small roadside shop selling fresh samosas along the way which was the perfect breakfast to take on the run. The road started out fairly flat without too much traffic. I passed a few towns and had locals ride along side me for small sections.
Again I found myself dodging random cows in the middle of nowhere without a care in the world.
As the temperature increased I kept coming across people in the most random places selling sliced mangoes, coconuts, and even corn on the cob… each time exactly what I was after!
As I got closer to my destination, the wind increased and was making life a bit difficult to say the least. I found myself on a quiet narrow road winding up through a small village. As I got higher I started seeing more monkeys and a few little dogs even put on there brave pants and tried to have a go. As I rode along the narrow road with lush green trees, Lion rock seemed to emerge from nowhere and the road hugged it around into the small town.
I found some nice accommodation not too far from the Lion Rock entrance before devouring as much food as I could at a restaurant next door. 
I got up this morning and headed to Lion Rock. I was told to go early so as to beat the crowds. I would have loved to catch the sunrise there but the gates don't open until 7am.
After spending a small Sri Lankan fortune on my ticket I made my way across a small bridge over what looks like a moat surrounding the site.
I walked through the well manicured gardens comprised of hundreds of ancient stone structures. There wasn't too many people there yet and there were monkeys strolling around like they owned the place.
The rock its self is quite breath taking. It appears out of place and stands 200 metres high. The stairs were steep and could fit a bit more than just my toes.
As I got higher and the wind increased I found out that I have a mild fear of heights, but I pushed on (holding tightly to any available hand rails). I got to a large ledge looking up at the rock. From here there are two large lions feet carved into stone. You walk between them up more stairs before reaching the top.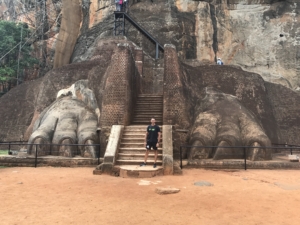 There was a spectacular view from the top which has more stone landscapes.
I wanted to put my drone up but the wind was really strong and I was worried I'd lose it. I watched the rain make its way over quickly from the distance which was nice for 5 minutes clearing the place out a little bit.
After sitting and appreciating the beauty around me, I started to make my way down. By this time there was a strong mosh pit of people marching up both sides of the stairs. I politely waited for about a minute before realising I was literally going to have to walk into people to get down. People seemed confused that someone was stopping their four abreast charge up the rock. I was glad I was one of the first to get up. It was getting ridiculous!
Once I reached the bottom I had an awesome idea for a drone photo but as soon as it was airborne I was informed by a guide that drones were prohibited and if I was caught with it it would be seized and handed to the police.  This was not what I wanted so I quickly put it away.
Tomorrow I plan to ride to Kandy which is 92km away. I think it will be a nice ride, hopefully through some tea plantations.
Stats:
Day 19 Trincomalee to Sigiriya 102.7km
Day 20 Explore Sigiriya and climb Lion rock