With my last ride ahead of me I woke up early and packed up ready to go. I was on the road around 6:30am and after some advice from the guys who run the hotel, I decided to take a different route than originally planned. It was about 20km further, but took me through some more rural and really beautiful areas which also meant missing the heavy traffic.
As I made my way out of the city, I found myself in the middle of a school running race. Stopping a few times for some fresh samosa and coconuts I ended up in a cat and mouse game with the runners. The road was undulating, and this, not so busy road, appeared to be the most popular place to dump huge mounds of dirt, so I negotiated my way around obstacles for the first 30km. It wasn't long before the down hills started. It felt like I was being rewarded on my last ride being given a day of downhill through some of the most beautiful quiet winding roads. I ended up reaching over 50km/ hour which is pretty quick when your total weight is around 130kg.
There was a cool breeze, the road was shady from all the palm trees, and as always I was getting waves and smiles from almost everyone I passed. It was difficult to wipe the smile off my face as I tucked into the aero position down hills and continuing up the other side, overtaking tuk-tuks. As I approached Negombo I was hit with a massive feeling of accomplishment. I found myself recognising my surroundings from my first day. I had done it! A complete loop of Sri Lanka!
I circled Negombo in search of a accommodation for my remaining days. I found an place with a pool which was walking distance to everything.
The staff were amazing and somehow found a high pressure hose to help me clean my bike.
Not having hose clamps the Sri Lankan ingenuity came into place as they clamped the hose in place by twisting old pieces of wire. It kind of worked but he was more than happy to hold the hose in place for me as I cleaned my bike. I don't think its ever been so clean! I celebrated completing the ride with fresh lobster and a few cold Lion beers.
My next task, the one I'd been quietly stressing about the whole time, was to find a bike box to pack the bike into. As the bikes in Srilanka are mostly over 30 years old I didn't hold high hopes. Staff at the hotel assured me they had a friend who would be able to find me a box. The next day I met Lakmal. He was confident we would find what we were after. I think we visited every bike and box shop in Negombo with no luck.
After an unsuccessful mission, Lakmal invited me to his gym the next day before another day of box searching. After several hours of searching bike shops (and I use the term bike shops loosely) we ended up at the back of a shop with high end racing bikes. This time I was sure I was going to find what I needed. We went out the back and I was shown a few slightly wet and torn up boxes for kids bikes. I explained this was still no good. It appeared this was going to be my best option so I bought two boxes with the plan to somehow make it fit. After letting the boxes dry out over night I set to work dismantling the bike and entered into an intense game of Tetris.
With the help of five staff members of the hotel and me dripping sweat all over the box it was in. A few more moves with the help of my spare box and three rolls of duct tape it was all sealed up. Magiver would have been proud!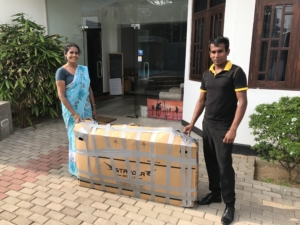 I ended up at the gym again with Lakmal and probably spent more time getting selfies with him and his mates than actually training but it was good fun. 
Not having any method to weigh the bike box and a strict weight limit of 30kg I stuffed my other pannier full of heavy items to be sure the box would come in under weight. At check in it came in at 28kg so with a baggage wrapping station on hand I decided to cut open the box and offload some ridiculous items from my hand luggage like bike shoes. With hand luggage that I could now close and a box still coming in under weight, all my worries were gone!
As I sit on the plane I'm thinking back on all the great times I've had and people I've met along the way. I'm looking forward to returning home to Townsville. I feel like this trip has given me a lot of time to reflect on whats important to me and I'm excited to make some important changes in my life.
I will most certainly return to Sri Lanka. 
Stats:
Day 26 Kandy to Negombo 121.2km
Day 27 Explore all the bike shops and Dine out on Lobster
Day 28 Gym, beach, and explore more bike shops
Day 29 Play Tetris with bike and lots of gym selfies
Day 30 Fly home
TOTAL DISTANCE – 1140.2km