I got away from from Tangalle and continued north. My plan was to get to Ella which is up in the hills but it was 160km away and included a decent sized hill. I set my sights on the small and relatively unknown town of Debarawera. From what I could tell there wasn't too much to see there but it would make a good place to stay for the night. After a few street coconuts and about 70km I found myself at a small guest house on a dirt road by the river.
I was having trouble changing into my smallest chain ring which hadn't been a problem up until this point as tomorrow I was going to be ascending up to Ella which is a 1000 meter climb so I though I had better get to work. After some assistance from youtube and a friend in the know, I had it doing what it was meant to do, although not perfectly.  I set off the next morning toward Ella. It was hot and humid and the road was relatively flat with a few undulations. Just as I hit the 70km mark I came face to face with my first hill. It wasn't too bad and I was happy to be able to shift into my easiest gear as there were a few very steep parts. As I came around the first corner I was met with an amazing sight. A coconut stand. As I inhaled my coconut juice the sky opened up and it began to rain. It got really heavy and I was forced to take cover for about 15 minutes. It eased off slightly and I jumped back on the bike, dying to get to the top of the hill and find myself a shower. The road continued to wind up along the hillside past monkeys and huge waterfalls.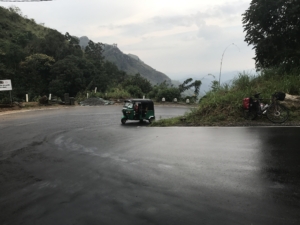 Eventually I rolled into the beautiful town of Ella. Eager to find accommodation as it was still raining and I was soaking wet I found a nice hotel just off the main road. Somehow I managed to negotiate a great price and after a shower and some clean clothes I made my way to 'Chill Cafe', the funkiest cafe Ive ever seen with a large deck covered in bean bags. The perfect place to eat and relax after a big day on the bike. The next morning I explore the town on foot and ended up at Little Adams Peak. A small mountain with spectacular views of the area. 
I wanted to continue my journey along the coast, so the next day, after an important check to ensure that my brakes were working, I made the quick decent from 1000 meters. Descending through the lush tropical rainforest, I found myself dodging monkeys playing in the middle of the road not too concerned with me flying past them. Once the down hill fun was over It was back onto the flat stuff again in the heat keeping an eye out for the next person selling coconuts from the front of their house.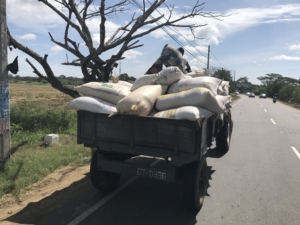 In order to get to Aurugam Bay, the road took me through the Lahugala Kitulana National Park. I was initially excited to pass signs saying beware of elephants crossing the road but It left me with a small sense of vulnerability. Elephants are pretty big and can move fast if they want to. I stopped to see hundreds of flamingoes wandering around water holes and water buffalo grazing. I zoomed in on what I thought was an elephant in the distance but it was so far away it wasn't worth getting too excited about. I continued on, passing groups of monkeys jumping around on the road until I saw it. A huge Elephant off the road in a small grassy field. Aware that it was potentially a pretty dangerous move, I walked my bike off the road and down a dirt track leaning it up against an old fence post. I snuck quietly over in the direction of the elephant, heart racing with my escape plan in my head. I peered over a mound of dirt. Right in front was a huge male elephant grazing on his own. The first to see me were about 50 monkeys who were chilling with him. They all started running around which must have startled the elephant because he bolted into the bush but not before I got one awesome photograph. I recall feeling very close to the elephant but my GoPro footage suggests I was actually a fair distance from him, but it felt real to me!
The ride ended with me rolling into Aurugam Bay located on the south east coast, famous for great surf. I found a sweet hotel right on the beach. The next morning I hired a surfboard and made my way to the beach. I wasn't disappointed. With a nice right hander peeling off the point and turtles popping up regularly, I paddled out and got onto a few waves. My surf skills were low from lack of surfing in recent times so the 3-4 foot clean waves were perfect although the break is on reef so I got a bit cut up coming in.
I finished the day off with my first yoga session along side monkeys running around the gardens.
The next day found me heading north along the coast towards Batticaloa. There were cows and goats everywhere.
I even saw one walking into a shop.
I followed the road along the coast until it turned to red dirt and I eventually found this random hotel alongside the beach in what appeared to be the middle of nowhere. 
I left early the next morning and continued north. Continuing to pass cows and goats I narrowly avoided people, bikes and tuk tuks who seem to pull out in front of you without looking. This became more evident when I witnessed an elderly man walk out in front of a motorbike putting him on the ground head first. I helped him off the road along with a few others and he seemed ok so I left him to it. 
After this I was stopped by the police for the first time. Up until this point they had been happy just giving me a wave but this time it appeared it was my turn to pay them money for no particular reason. "Hello" I heard, as I was ushered to pull over. "this is a checkpoint, you must pay to pass through". I watched several vehicles pass through this 'checkpoint' as I spoke to the police officer. He was super friendly and got very excited when I told him about Australia and what I do there. After a long chat and a super long hand shake, and him requesting a quick selfie together, I was off again with no checkpoint toll!!
I made it into Trincomalee by about 3pm just before the sky opened up and the rain and lightning started up, cooling things off nicely. The next two days were fine and I got a chance to explore the place a bit getting a swim in at Dutch Bay, a white sandy beach with crystal clear water.
I got a much needed massage today too, although I don't know how enjoyable it was for my massage therapist as there was a lot of pealing skin ready to come off from spending long days in the unforgiving Sri Lankan sun. Tomorrow I plan to head away from the beach towards Sigiriya.
Stats:
Day 10 Medaketiya to Debarawera 68.2km
Day 11 Debarawera to Ella 89.1km
Day 12 A walk up Little Adams Peak
Day 13 Ella to Arugam Bay 133.4km
Day 14 Surfing in Arugam Bay
Day 15 Arugam Bay to Batticaloa 114.6km
Day 16 Batticaloa to Trincomalee 142.3km
Day 17 Beach run and explore
Day18 Massage and Beach day