It's been a long time between adventures but I'm currently hobbling around like an old man after what I would have no choice but to describe as the most physically exhausting thing i have ever done.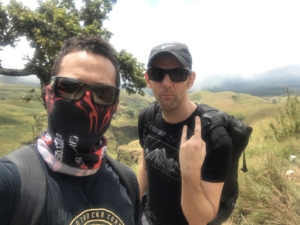 My friend, Evan, and I had been discussing adventure ideas over the past 12 months and eventually came up with an idea that seemed to tick all the boxes. The boxes included:
a) Another country;
b) Something out of the ordinary;
c) It had to fit in our days off (5 days); and
d) Finally and most importantly Evan couldn't tick off a country he and his wife hadn't done!
The idea was born.
On Tuesday morning at 7am, Evan and I finished our last of 7 night shifts. Exhausted, we managed to get a couple of sneaky hours sleep before the beginning of the most epic adventure of all time.
Running on adrenaline and caffeine, Evan and I made the 4 and a half hour drive to Cairns where we jumped on a flight to Bali. We checked into our hotel around 2am, but not before a sneaky Bintang. After another couple of hours sleep it was time to jump on another flight, this time to the Indonesian Island of Lombok.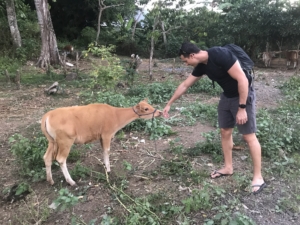 We arrived on our 'Wings' aircraft, (famous for not making it to the destination on time or at all) and jumped into a taxi to Senaru.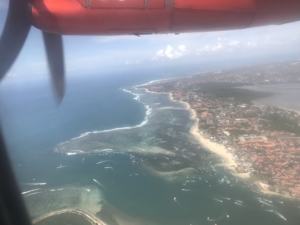 Once we arrived we got to meet Mr Morrist, our tour manager. After not replying to our emails for the past week it was comforting to find out he was in fact a real person. This was the last comforting thought we had of Mr Morrist.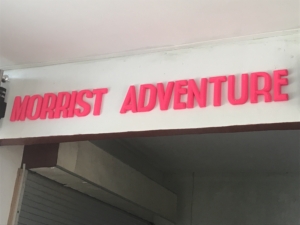 After a brief briefing of what was in store for the following 2 days we were driven to our accommodation for the night. After driving past 'The Lighthouse', (the accommodation advertised in the package) we arrived at a smaller but relatively decent looking place. Mr Morrist explained 'The Lighthouse' was booked out (even though we booked 2 months in advance). Mr Morrist took us to our room, it was decent looking, other than the double bed which we weren't willing to share. After Evan explained that the pink 'Frozen' hair clip he was sporting on his hat belonged to his daughter and wasn't an innuendo of his orientation we were reluctantly driven to a 'better place' after dropping us off and making a quick getaway, we entered our room for the night. The good news was that there were two separate beds. That was the only good news about the place unless you love 60's lime green walls with small forests of mould and cracks.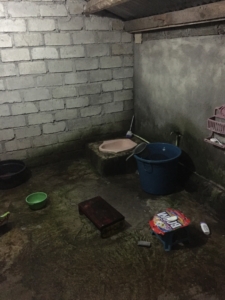 We spent the afternoon exploring the town which consisted of cows, chickens, and midgets playing soccer. We found a place in the centre of town and had a relaxing couple of Bintangs. 
After another night of limited sleep on beds with some suspicious stains, we woke for a big breakfast as promised by Mr Morrist. We attempted to enjoy a paper thin pancake with a couple of slithers of banana mixed in and black coffee that made me flex muscles in my face I didn't know existed.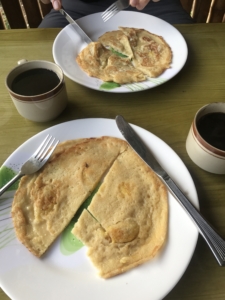 We were picked up in a mini van where we met our trekking companions, John and Emily.
On the drive to the start point of our trek our local guide, Jen, jumped out for a cheeky spew. We arrived at the bottom of the active volcano Mount Rinjani, the second largest volcano in Indonesia. We quickly became aware that the bag we brought was not going to be taken to the base camp as we were told by Mr Morrist but we in fact had to carry it. Should have taken the trekking bag :/
We looked up at Mount Rinjani. The sky was clear, the weather was humid, and there was a gentle breeze in the air. We were in store for two days of trekking. I was feeling confident having done a 5 day trek in Peru, and Evan wasn't too concerned as he has trekked to Everest base camp… we were in for a shock.
We began walking through the country side past farms and through small forests full of monkeys. The first snacks appeared after a few hours-chocolates. As an avid non chocolate eater I politely refused, determined to keep up my non chocolate eating lifestyle. We continued on and eventually It was lunch time. Rice, egg, chicken and veggies which were basically inhaled. We continued on and the track became increasingly steeper to the point we had to stop every 20 minutes or so to wait for the others to catch up. After a few hours in the heat no food and getting pretty shaky I gave in and ate chocolate which just quietly tasted pretty amazing but didn't do a whole lot to give me energy. After 7 hours and 12 minutes we arrived at our campsite. We had only walked 7.54km but gained 1596 meters in elevation. We were met with a surreal view of the crater which was filled with water. We had a good view of tomorrows route to the top. The crater rim circled up to our left, getting steeper and steeper. It didn't look particularly wide with a considerable drop either side.

As soon as the sun went down the temperature dropped from no shirt weather to 3 layers and eventually hit -1 degree Celsius. After a couple of hours sleep it was 1:30am, time to get up and start walking but not before another Mr Morrist special breakfast, a toasted chocolate sandwich and silty black coffee. So on a very empty stomach we began trekking to the summit to see the sun rise. With headlamps on we climbed up to the creator edge.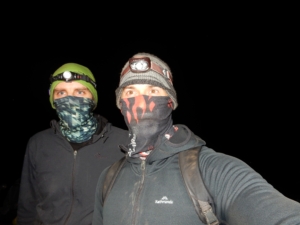 Walking along the rim we were careful not to take a wrong step otherwise it was a certain slippery slide to the bottom. Around every turn the walk got steeper and the ground became thicker with silt to the point that the final 800 meters was literally two steps forward slide back one.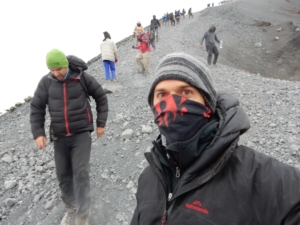 We begun to feel weak as we had not eaten in a long time and a random bloke offered us some chocolate chip cookies which we were more than happy to accept. After about 4 hours, 10,000 rest breaks and 2 cookies we made it to the summit. I have no doubt the view would have been amazing but all we could see was clouds. By this time we had lost our trusted guide as he was a long way back with John and Emily.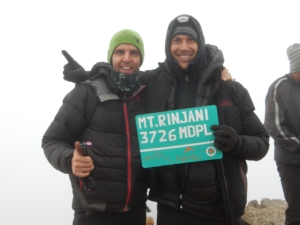 With time a bit of an issue for us, as we needed to be at the airport by 4:30, we raced down the ridge slipping and falling regularly. We followed what we thought was the track still slipping and falling along the way until we found ourselves at a cliff edge which would surely have been broken bones at the least had we gone over. Not wanting to back track through the thick silt, we bush bashed until we eventually found the track. After a couple more wrong turns we made our way back to the camp right on 8am where we were told by Jen that a big breakfast would be waiting for us. There was no breakfast waiting for us, but we were more than happy to take our shoes off and give our feet a break while we waited. Evan was sporting some impressive blisters and I had a couple too. Eventually breakfast was ready. We were dreaming about a big plate of rice with eggs. We were met with another Mr Morrist special. A paper thin pancake with two slithers of banana maybe 50 calories. We washed it down with another silty coffee and waited around for one of the porters who was taking us down to get to the car at the bottom. We would have had plenty of time but the porter seemed to have more important things to do as we sat waiting to head down. 
Eventually we were on our way. The porter set a pretty hefty pace and everyone we passed told us to slow down but we had no choice but to try and keep up with our barefoot leader. Evan and I slipped and slided our way down hitting the deck regularly using our backpacks to soften the falls. It was particularly steep and slippery. After a couple of hours hour bodies started to tell us to stop but our leader wouldn't have any of it. Both Evan and I began getting severe knee pain. We told our leader we needed to rest but he wouldn't have any of it and charged on. Eventually it got to the point both Evan and I couldn't physically go on and stopped for 10 minutes. Our porter gave us some Tim Tams and some Pineapple which was amazing! Again, we continued on trying to keep up having to jog sections to maintain the pace. After a total of 10 hours since beginning at 2am we finally literally limped in to the small town at the bottom where our ride was waiting. Covered on black silt, struggling to move, and shaking from hunger we jumped into our ride and gave each other some half arsed hi fives. We arrived at the Lombok airport after a three hour drive around the island and both nearly collapse as we attempted to get out of the car. We shuffled along looking like we had just re appeared from a collapsed mine shaft. Looking forward to showering and chilling by the pool to our hotel we had booked at Bali Airport we discovered that our 20 minute flight to Denpasar had been delayed three hours. All we wanted to do was shower, eat and drink Bintangs around the pool but this was no longer an option. We felt sorry for the people that were forced to sit near us as we hadn't showered in two days.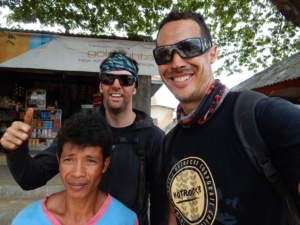 With just enough time to shower and pack for the flight home we checked into the hotel only to find they had upgraded us to an executive sweet with free lounge access and free beers. Unfortunately there was no time to take advantage of any of it and the rest of our time was spent checking in and going through customs. Yet again there was no time to eat as when we finally made it through to the gate it was time to board. We scoffed a small salad before boarding and I was asleep before we took off.
Some Stats;
Total hours sleep in 5 days – 16
Maximum elevation -3,726 metres
Total meters gained – 2,553 metres
Best pace on the way down – 5:35/km
Lowest temperature experienced – -1degree Celsius 
Total times we said Mr Morrist's name in vein – 10,000
Total time trekking – 17hours 16 minutes