I am currently sitting in my tent inside an an abandoned mud brick home with a partial roof just near the town of Laguna. There is an icy cold wind out side and I am smack bang between three volcanoes all covered in snow. I am hidden as best I can but still hopeful no one attempts to come in. My other concern is the weather as the past few nights there has been heavy rain, lightning and even snow!
The day started off well. I found a little Hostel up the road (much nicer than mine) where I had breakfast before heading out on the road. My plan was to do around 70km to the Sajama National Park where I was told there might be a hostel. With sunny skies along with icy winds I headed out onto the road.
I was expecting a tough day with plenty of hills. I was right about the hills but for some reason they didn't seem too tough today. There was lots of flat land surrounds by hills with flat tops. There were Lamas and Alpackers grazing everywhere, and they would all stop and stare at me as I passed them. I stopped to take a photo of a couple of locals with 2 dead lamas on the side of the road cutting the wool off but they told my not to take a photo so I didn't. Not sure why.
I continued winding my way towards Nevado Sajama, a snow capped volcano I had been seeing in the distance since yesterday.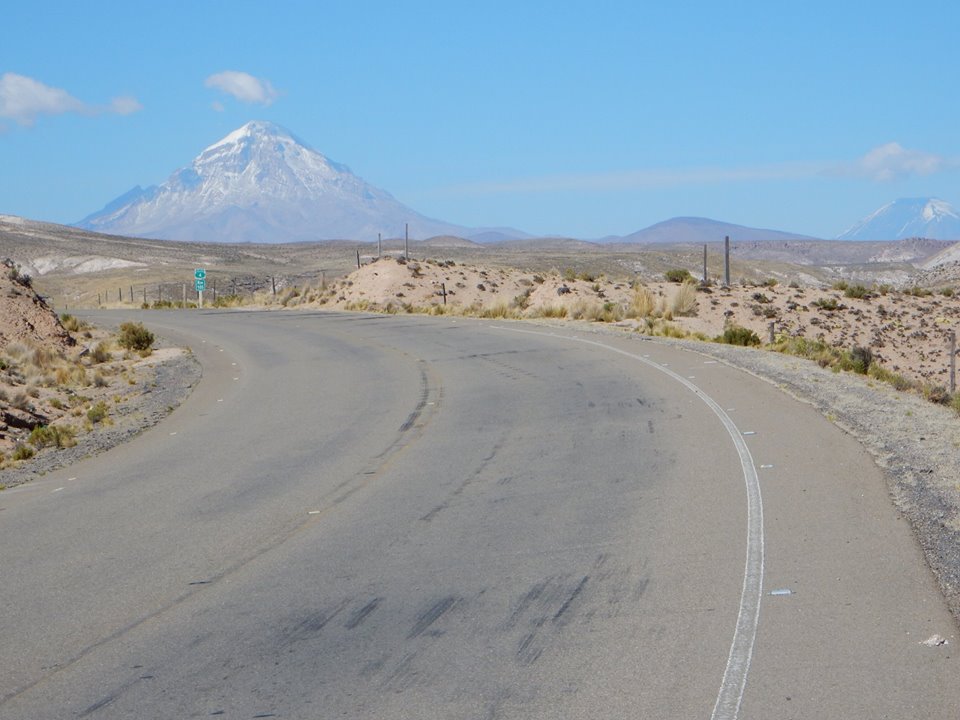 About 20km from the Sajama National Park, I unexpectedly found a restaurant. I spoke to some truck drivers who were pretty confident that there where no hostels in the park. This was not good news as I knew that tonight was likely to be cold and most likely wet. As I got to the entrance to the park I saw a long dirt road winding its way around the back of Nevado Sajama. I also saw the main road begin to make its way up into the hills. My plan was to sleep at a lower altitude and spend tomorrow climbing through the hills into Chile. The other thing I saw and wasn't expecting was a relatively decent looking mud brick hut which appeared to be abandoned.
After much thought and deliberation I decided to set up camp inside the hut for the night. I tried to keep a low profile as I explored and set up. There is no roof in the centre which means if it rains I will get wet. I found an old rusted steel sign which I used to block one of the several open windows. Once set up I actually found I had some amazing views of the surrounding mountains from the windows.
So tonight will be an early night, listening out for every noise I hear. Tomorrow should be a difficult day with some decent hills (hopefully the last) but I expect it to be a beautiful ride also as I will cross the border to Chile and cycle through the Parque National Park and arrive at Putre for my last sleep before Arica!!!