One of the things I've really been looking forward to about this whole trip is North Yungas Road otherwise known as 'death road'. I tossed up the idea of doing it on my bike but ending up down at 1200m in the rainforest didn't really fit in with any itinerary I had, and meant most likely having to ride up again.
Once in La Paz I was told the best company to book an organised tour with was Gravity Assisted Mountain Biking however they were also the most expensive at B$750 (about Au$150) almost double the price of some of the cheaper companies. I looked at a few different companies who didn't leave me feeling confident, giving a vague 'yes' to every question I had. Gravity Assisted showed me the equipment, have full time mechanics and a Gringo Tour guide as well as a Spanish speaker on every ride. so this was the obvious choice for me.
Our group of 13 (yes I see the irony of the number) left La Paz early and arrived by a small Lake where the bikes were unloaded. All the bikes were dual suspension Mountain Bikes with double piston hydraulic disc brakes (good brakes). Several other groups arrived and left shortly after (on mostly hard tail bikes) while we had a detailed briefing by our English speaking Dutch Tour guide, Steven. After blessing the ground, our bikes, and ourselves with a small amount of Alcohol we were off.
The ride began down a bitumen road winding our way along mountain edges reaching speeds of nearly 70km/h. We stopped several times to allow others to catch up and for Steven to give is details of the next section. We stopped at a check point as a small payment is required to use the road.
There was a 10km section along the bitumen (and some cobble stone) which included a small amount of uphill. about half the group decided to travel this section in the van. Eventually we made it to the turn off to the most dangerous road in the world and the vans arrived shortly after. This road is the only road in Bolivia where drivers are to drive on the left side, as upcoming traffic has right of way. Since the driver sits on the left he has best view of his wheels as they creep as close as possible to the edge.
After some lunch, a few stories about cyclists who had not made it to the end of the ride, and some words of wisdom, we proceeded down the dirt road looking over the edge of some enormous drops in which there would definitely be no return.
Again we rode sections stopping to allow others to catch up. Steven continued with stories of incidents he had witnessed on the road reminding us to be sensible. 
The road was amazing. Road that somehow has been cut into the shear cliff face with areas crumbling away making even a single car passing some points a little sketchy. We were thundering down the dirt road reaching speeds not to much slower than 60km/h. About 15 years ago the family of a not so fortunate cyclist donated money towards safety on the road and since then a number of guard rails have been constructed (some of which appear to have been done their job sustaining serious damage). There are still however many sections which in my opinion could definitely benefit with more rails but that would also take away from the 'deadliness' of the road.
Being basically the side of an enormous mountain we rode through a number of waterfalls drenching us in water as we rode past, but this wasn't such an issue as we were descending quite quickly and the temperature was getting hotter all the time!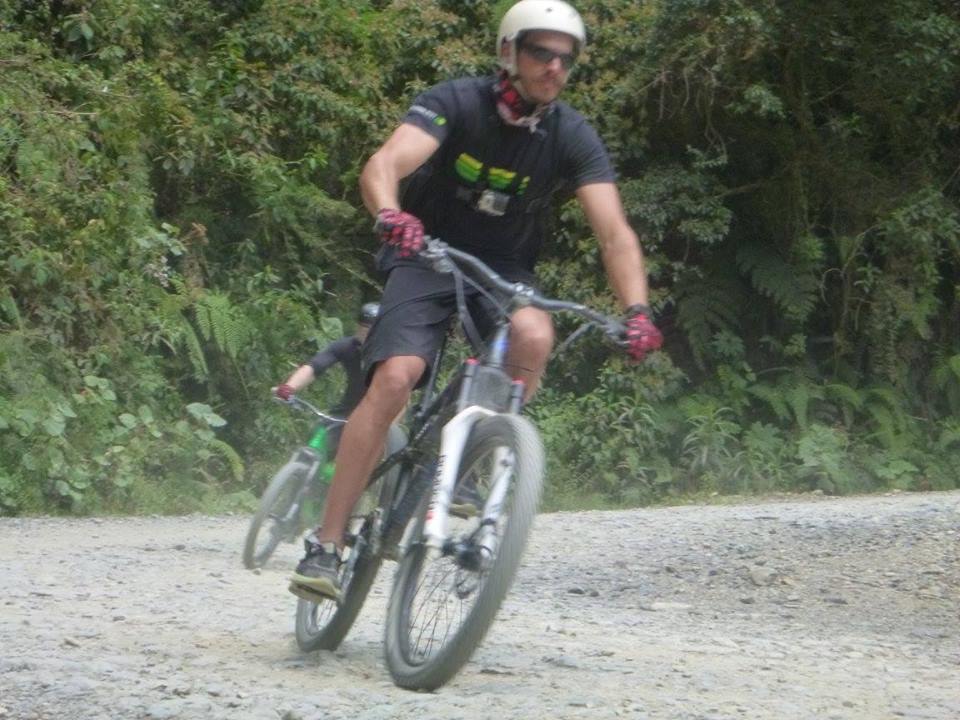 As we got further down the mountain we found ourselves catching up to other groups. Having been given instruction on how to overtake and where to sit on the road as to avoid collisions with other traffic, it was interesting to note that riders with other companies didn't appear to be following any of the road rules sitting 3 and 4 abreast slowly riding around blind corners making overtaking a little risky at times.
Eventually we made it to the bottom having descended from a very cold 4621m down to a very humid 1205m. We celebrated the ride with a cold beer at the local restaurant, before heading to a local wildlife centre where volunteers care for local wild life. Here we had a buffet lunch and shower before driving back to La Paz. We drove back along the new road which also has been cut into the side of the mountain and at one point we traveled through clouds over a bridge (which felt like thousands of kilometres above the ground) towards the peak of a mountain where we entered a tunnel cut directly into the stone and went for a few kilometres until appearing back into cloud where we then traveled across another high bridge. The scenery was very surreal and a but scary while sitting in a min van redlining continuously as we rode this rollercoaster road.
I can highly recommend the ride for both experienced bike riders down to complete beginners. Everyone is catered for and you are guaranteed to get something out of it. Having done it now, it didn't seem as scary as I though it was going to be, but you still have to be cautious and keep your wits about you.