After the trek to Machu Picchu I gave myself two days to rest in Cusco, and make sure my spider bite was going to handle the next 400km of close contact with my bike seat.
I walked to the Real Plaza to get a few supplies. I have been having some serious problems with aggressive dogs on the road so I bought some toilet cleaner in a spray bottle. I don't know if it will work but I need something!
Early Saturday morning It was finally time to start the next section of the adventure… I was pretty excited to be back on the bike. As I rolled away from the hostel I was relieved to feel the purple section of my arse wasn't in contact with the seat. 
It felt really good to be back on the bike. Everything felt easy and I was pumped to be finally leaving Cusco.
The first 30km was amazing. All down hill. I was weaving around the busses which are continuously pulling over to pick up passengers. 
When I finally made it out of the city, I found myself passing cattle, pigs, and sheep. I was passing lots of lakes, reflecting the surrounding mountains.
After the initial 30km of down hill I found myself riding up hill again. I pushed on keeping an eye out for spots to camp.
I eventually ended up in a small town called Combapata. I had completed 110.5km and was starting to feel a bit faint. I saw a Hostel so I pulled up. As I pulled up the Policia gave me a wave from across the street and came over for a chat. He wanted me to take a photo with him. I think he shook my hand about 20 times… I was feeling pretty safe in this town.
I got rejected from the first 2 hostels and was finally accepted at the only other hostel in the town. Didn't think I stunk that bad but maybe I did.
After some street chicken and a moderately warm shower, I was spent and basically passed out in my bed. 
The next morning I woke up with a sore neck. Must have slept on it badly. I took my last Anti inflammatory and headed out on the road. My neck was pretty stiff and I couldn't really turn my head so I decided to just take it easy. Again today I was feeling really good on the bike. I had a nice tail wind and in many sections it barely felt like I was riding up hill. 
I was riding though small town after small town. I was feeling good and everyone was friendly throwing waves in my direction. I stopped a few times to chat to locals, (as much as you can when you don't speak the same language). I bumped into 3 french cyclists, two of which were on a tandem, heading in the opposite direction who had been traveling for one year, .
Eventually I made it to the steep section of the hill (about 25km). I was stoked to still have the tail wind to help. As I got higher the altitude started throwing its weight around and I was struggling to suck in enough oxygen. Eventually I made it to the 4338m Summit, (the highest point of the ride from Cusco to Puno). Again a was surrounded by Ice capped mountains making for some amazing scenery. 
From there I knew the rest of the day was all down hill (I was pretty excited about that). After the summit I didn't really need to peddle too much for the next 12km as I was rolling around 30 – 55km/h past the grassy hills and towering mountains. From there It levelled out a bit with a light down hill. After descending below 4000m, I turned off the main road into another small town called Santa Rosa. It was getting late and again and I was feeling pretty exhausted… so much for an easy day, I ended up doing 98.19km most of which was up hill. 
Again my first attempt at getting a hostel I was rejected, (I think a lot of the hostels here are tailored to guests who are after a cheeky hour or two with a special someone). My second attempt was successful and I found myself In a nice little room for S/10 (less than $5 Australian). After returning to my room after hitting the local shop I found the lock to my room was broken so I had the manager and her mother jimmying the window with a knife… (didn't look like her first time).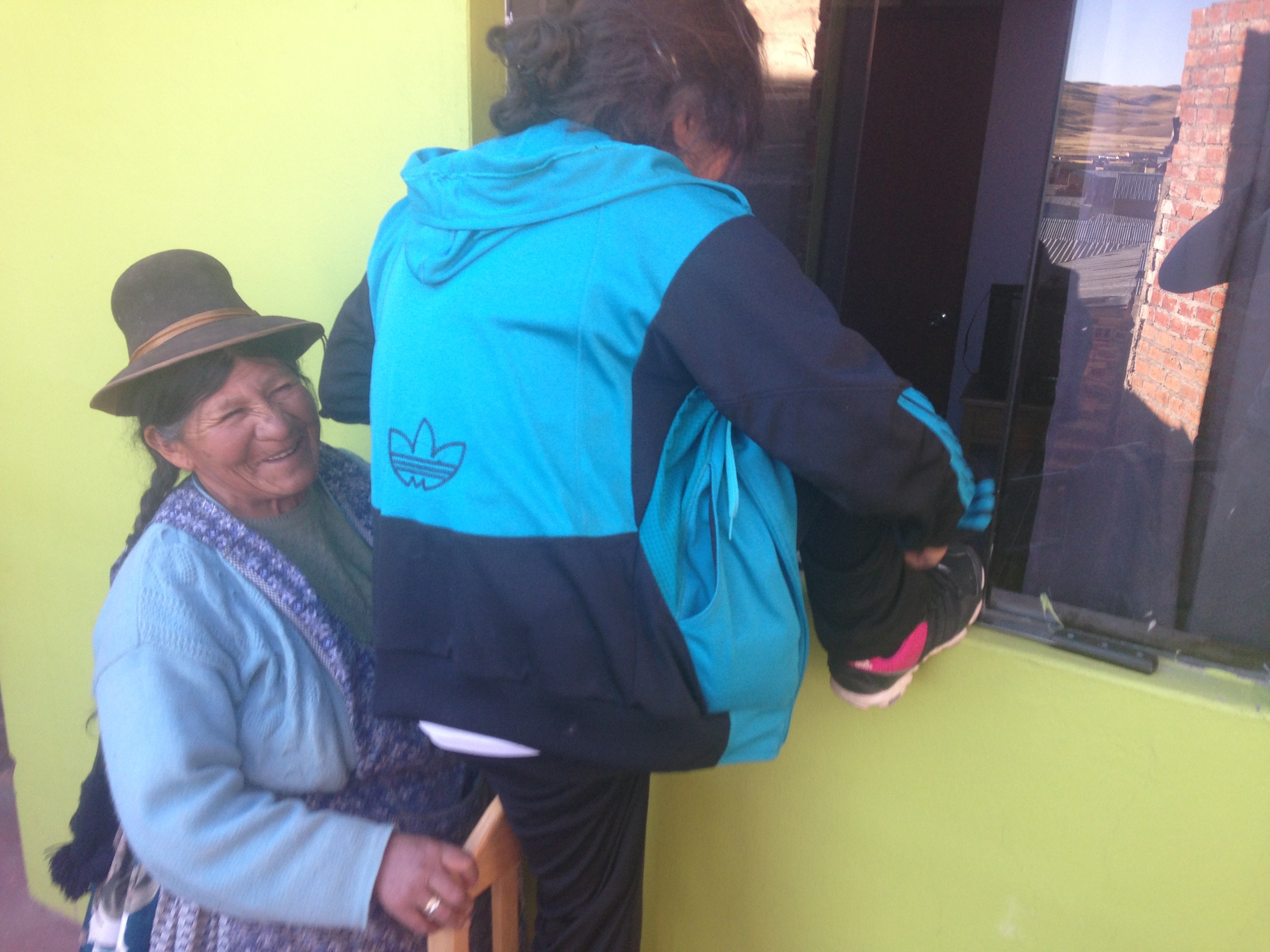 I was exhausted so I cooked up some pasta and Tuna in my room. 
I'm looking forward to a light down hill run tomorrow. I think ill try and get to Juliaca, a larger town about 44km out of Puno.
Stats;
Day 1 
Distance – 110.5km
Elevation gain – 1010m
Elevation loss – 894m
Av speed – 17.66km/h
Av HR – 131bpm
Day 2
Distance – 98.19km
Elevation gain – 999m
Elevation loss – 495m
Av speed – 15.55km/h
Av HR – 126bpm