So I left off last night wondering if I would be attacked by a Puma, robbed by some people, or simply freeze to death. 
As I lay in my sleeping bag these thoughts kept running through my head and of course I was associating all noises with one of those scenarios.
At about 9:30pm I was woken to footsteps and voices around my tent. I didn't know what was going on and prepared myself for whatever was about to happen.
I recognised the word 'Policia' being called out. I opened the fly to my copper mate I'd met at the restaurant the day before. He asked me if I had a pistol to which I replied 'no'. He said 'two gangs', I said 'really?' he was laughing and I got the impression he was joking… but that was enough to keep me awake for the rest of the night.
So 5:30 came around so I started packing my gear up as I wanted to get out of there as soon as possible. When I got out of the tent I found that the tent and my bike were both covered in Ice.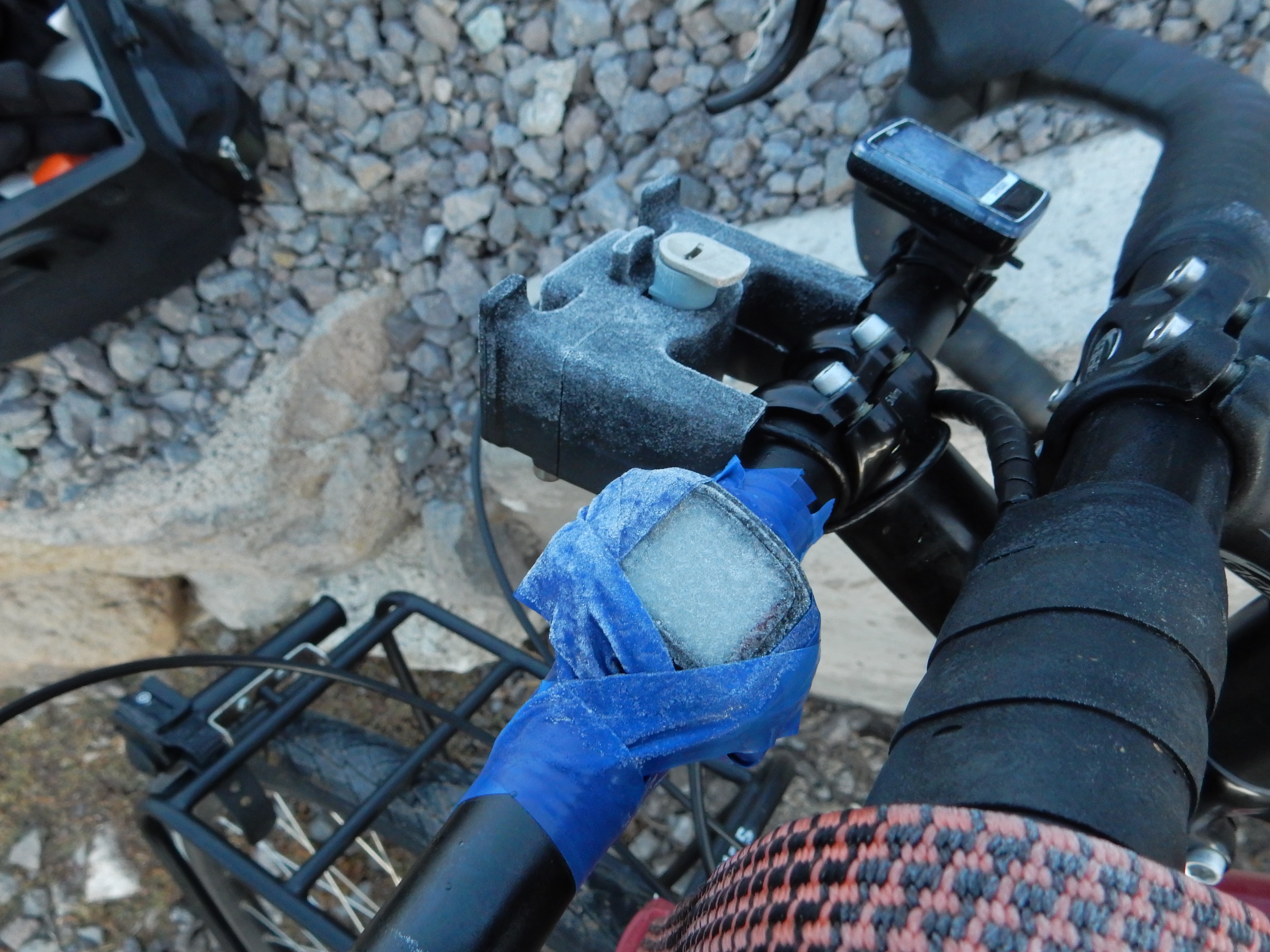 I tried to shake most of it off but struggled and ended up packing an Iced up tent into my bag and I was off.
I thought today was going to be an easy day. All I had to do was continue 40km across the Plateau then It was down hill… It was the toughest struggle across the top of this mountain with howling icey head winds what seemed like the whole way. 
I had imagined it to be relatively flat too but again I was wrong. Even the down hill sections were a struggle! I stopped for some fried fish at a little town I came across and eventually I made it to the 40km to the edge.
I thought I was saying goodbye to up hills and it would be cruising from here. I had an amazing decent to a valley 300 meters below before realising I had to ascend another 300 meters (7km and much steeper than I had seen before). I did about 2km on my own (with about 4 rest stops) before I grabbed onto the back of a truck for the remaining 5km. It was a struggle to hold on as my fingers cramped up but I knew letting go would kill me. I dropped off with about 500m left to the top and gave my saviour a big wave. 
I should mention also that the scenery had been spectacular, with Lamas crossing the road in front of me, dodging bulls staggered across the road, not to mention Ice capped mountains surrounding me.
The terrain continued undulating and eventually I got to the top of the most amazing decent I have ever experienced!
I wanted to take photos but the rush of rolling down this mountain was too much for me to stop. I was varying between around 35 to 70km/h. The road surface was perfect and the road continued to switch back on it's self. At points there were no rails and way too many crosses at switchbacks making me assume busses had gone over at some point. I eventually caught up to a truck so stopped for a few photos.
I quickly caught and passed him. When I eventually made it the 10km to the bottom I hit a small town. I continued another 35km down hill following a creek through several small towns until eventually finding myself in the larger town of Chalhuanca.
I was completely exhausted and in order to make it to this town today I had pushed myself a little harder than before. I found a cheep hostel and lucky I did because as soon as I had eaten It started raining pretty hard. 
I am going to try and get a decent sleep tonight and attempt to get to Abancay tomorrow.
Stats: (Not entirely accurate as Garmin battery died with 35km of rolling downhills to go)
Total Distance – 137km
Total Time – 9h
Av speed – 13.3 (would be higher)
Max Speed – 69.3km/h
Av HR – 116bpm
Max HR – 153bpm
Felt very fatigued today and was thankful to finish with 45km of down hills!!