Today was a massive day and I am exhausted now!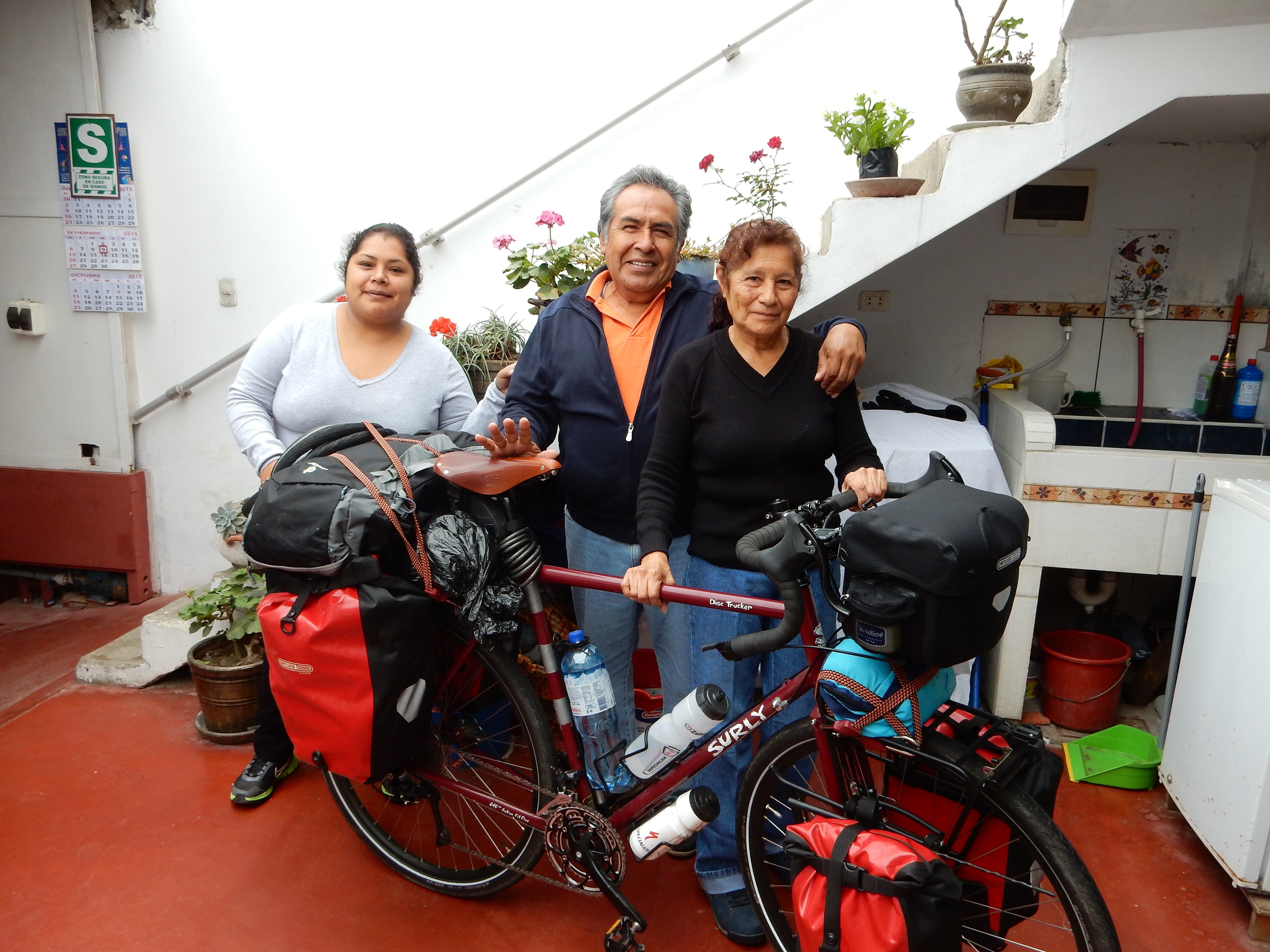 I left my friends at Cerro Azul and headed back out onto the local streets where i attempted to go into a little restaurant for some breakfast but was met by a very aggressive Rottweiler who didn't want me there. That was enough motivation for me to look elsewhere for food. As i rode back out onto the Panamericana Highway I was chased by about 7 more fairly aggressive dogs. Once on my way I was feeling good. It was another overcast day which began again with a light tail wind. As I rode south I passed many locals working in the fields picking corn and planting seeds. Locals were out riding horses and i was getting waves from most of them.
At the top of a hill I stopped at a little fruit stall and got some mango and mandarins and attempted to speak Spanish to the people there. 
I continued on and met a French couple cycling basically the same route as me. They have 6 months and are continuing through Chile to Argentina. They were traveling with their baby in a baby trailer and had a little seat up front as well. Tough work!
I stopped further on at a little restaurant and had some fish and rice which I had to point at other peoples meals for them to understand. This is the 3rd time I have been eating and the staff have all sat at my table while I'm eating for a chat. Not sure if we were talking about the same things but good to have some company!
I eventually got to Chincha. This was definitely the biggest town I've been to since leaving Lima. I lost my nice wide smooth shoulder which i had gotten so used to! it became single lane and with plenty of trucks and busses using this route. I found myself riding the pothole, sand and rubbish infested shoulder/footpath. I found out that the 140 odd Kilos I was pushing doesn't handle the sand too bad. I even got a few smiles from the locals when i started fishtailing though it.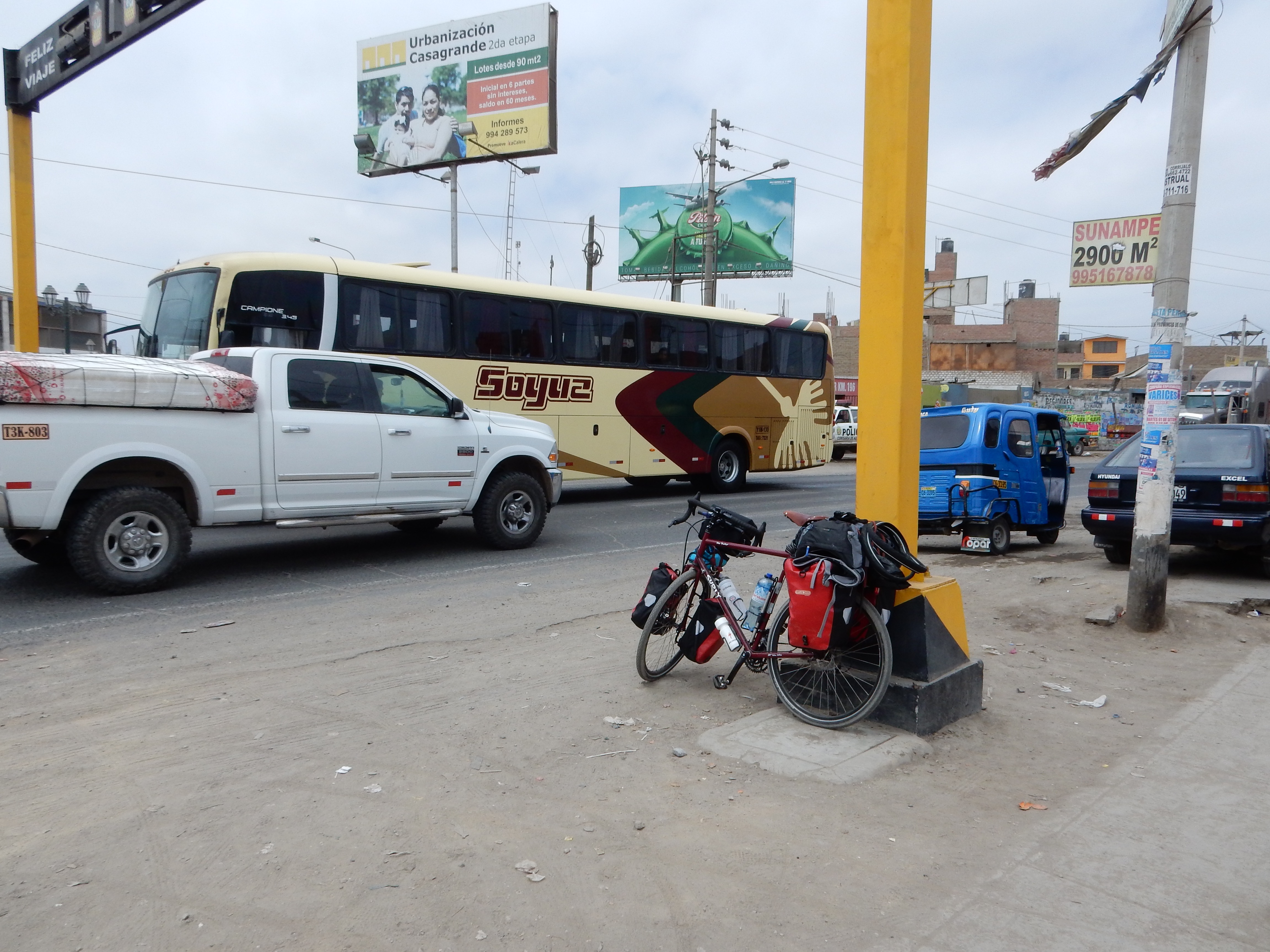 Once I got past Chincha I saw blue skys for the first time since I've been here and it started warming up. Unfortunately the road remained relatively unchanged with single lane and a fairly bumpy shoulder to ride.
I eventually hit the turn off to my destination for the day Pisco. As I turned onto the road I found myself behind a tiny car carrying enough gear to fill a truck. The boxes strapped to the roof had tipped over to one side and were pretty close to falling off. The car was traveling at around 30km/h so i decided to draft it the 5 km into town. This was going really well and I was feeling really proud of myself until an enormous pothole reviled itself to me causing my bike to stop dead in its tracks! The force caused a few lose items to leave my bike and I still have a splitting headache from it! I was recording my awesome drafting skills but the battery ran out just before 'the incident'.
When i got into town I found a hostel and grabbed some chicken and rice at the local restaurant which cost about AU$4. 
Today I cracked the 100km which was good but plenty of undulating hills, headwinds, hot sun and shitty road has left me pretty spent.
Stats:
Distance – 101.53km
Total time – 8h 25 mins
Ride time – 6h 13 mins
Av speed – 16.3km/h
Max speed – 45.85km/h
Elevation gain – 675m
Elevation Loss – 680
Average HR – 118bpm
Max HR – 160bpm
Calories – 3,130Cal